Stoneacre has completed the refurbishment of its Volvo Sunderland dealership, following a £5million investment in the site.
The new-look showroom on Riverbank Road features Volvo's signature lounge, with Scandinavian furniture, free Wi-Fi, Swedish cakes and coffee. An interior viewing window allows customers to see all the activity in the new workshops.
The renovation also extends to the cosmetic repair shop and the retailer's stock center.
David Nicholson, of Stoneacre Volvo Sunderland, said: "This refurbishment is much more than just a change of furniture: it is designed to create a space where our customers can feel relaxed and at ease in an environment offering flexible waiting, working and evaluation.
"With petrol and diesel cars phasing out over the coming years, our new state-of-the-art facility will be ready for the future, with a range of plug-in hybrid models to choose from – plus the pure electric C40 – alongside a selection of used cars from our Volvo Selekt range.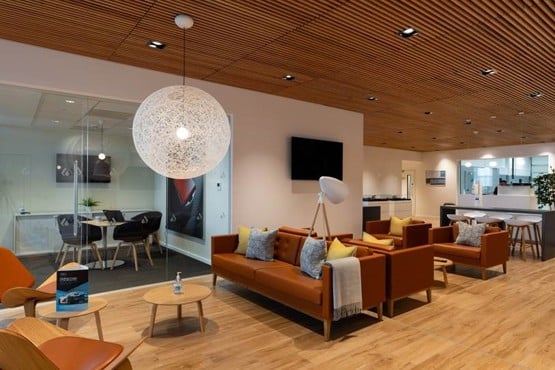 To help tackle the climate emergency and ahead of Volvo's pledge to become an all-electric car maker by 2030, the retailer has also pledged that no refreshments will be served with used plastics unique – in fact, these will be completely removed from the new showroom.
The retailer also continues to offer its streamlined service to car owners that cuts wait times in half. Volvo Personal Service sees the same technician liaising with the customer from the time of booking through to explaining the services – which he has performed himself. Two technicians work together on each car, reducing the time needed to perform maintenance.
Following the opening of its new dealership in Sunderland, Stoneacre Motor Group is set to make its Lincoln Volvo dealership 'future-ready' by becoming the Swedish marque's latest franchise location to undergo a major redevelopment.
Based in South Yorkshire Automotive Distribution Group AM100 will invest £2million to transform the Cheshire Road, Lincolnfields facility to conform to the premium car brand's Volvo Retail Experience (VRE) corporate identity.
Two years ago, Stoneacre upgraded its Volvo dealership in Sheffield with an investment of £2million, then reopened the facility with the help of British triathletes Lucy Hall and Mark Buckingham.
The changes come as the brand moves towards its goal of becoming an all-electric carmaker by 2030, with sales conducted entirely online in partnership with its distribution network.